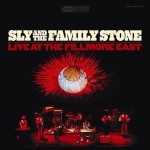 Op 4 en 5 oktober 1968 traden Sly & the Family Stone op in Bill Graham's legendarische rocktempel Fillmore East in New York City. Het waren in totaal 4 shows, twee per avond.
Ruim 46 jaar later, op 18 april 2015 (Record Store Day) verschijnt op het Legacy-label een compilatie van de beste nummers van die concerten op vinyl. De dubbel-LP bestaat uit een rode en een groene plaat en gaat heten: 'Sly & The Family Stone – Live At The Fillmore East'. De selectie werd gemaakt door Sly-fan 'Captain' Kirk van The Roots. Funky Twins Arno en Edwin Konings schreven de liner notes voor het album.
Tracklist
SIDE ONE: "M' Lady"; "Life"; "Are You Ready"
SIDE TWO: "Won't Be Long"; "Color Me True"; "We Love All (Freedom)"
SIDE THREE" "Dance To The Music"; "Music Lover"
SIDE FOUR: "Love City"; "MEDLEY: Turn Me Loose / I Can't Turn You Loose"; "Country Jam"
Enkele maanden later, waarschijnlijk in juli, komt een 4CD box uit met alle vier de live sets van de Fillmore East concerten van Sly & The Family Stone. Voor die box hebben Arno en Edwin iets uitgebreidere liner notes geschreven.
Fillmore East heeft uiteindelijk maar kort bestaan; van 1968 tot 1971. In 1980 opende een homo-club genaamd 'The Saint' er haar deuren. Deze zogeheten 'Superclub' bestond wat langer: 8 jaar. Tegenwoordig is in het gebouw op Second Avenue een bank gevestigd.