In het prachtige verhaal van Peter Schong over funkbassist Bootsy Collins dat eerder dit jaar is verschenen in Popmagazine Heaven, en ook terug te vinden is op Peter's eigen blog Boogie Down, komt een passage voorbij over de periode dat Bootsy deel uitmaakte van de band van James Brown:
"Als in 1969 een deel van zijn band opstapt, huurt James Brown de Pacemakers in. De amper meerderjarige Bootsy speelt mee op James Brown-klassiekers als Super Bad, Soul Power en Sex Machine. Na Bootsy's komst wordt Browns muziek pas echt superfunk.

De funk is in overdrive bij het concert dat Brown in 1971 geeft in de Olympia in Parijs, begin jaren '90 uitgebracht op Love Power Peace. De snelheid en power waarmee de band speelt is halsbrekend. Het lijkt wel alsof de zaal in brand staat en de JB's de vlammen tegen hun billen voelen schroeien. Dit concert is zo uitzinnig dat het verbaast dat er geen doden vallen. Op filmbeelden is te zien hoe een piepjonge en bijna onherkenbare Bootsy zich achter James Brown in het zweet werkt."
Beelden van dat legendarische concert van James Brown in het Olympia Theater op 8 maart 1971 staan op YouTube en spreken voor zich.
In 1992 bracht Polydor audio-opnamen van het Olympia-optreden uit op CD getiteld 'Love Power Peace' maar dit betrof niet het gehele concert. Bovendien had die mix niet de goedkeuring van de Godfather himself. Dat meldt BLURT Magazine op haar website.
Sundazed Music, een platenlabel uit New York gespecialiseerd in het opnieuw uitbrengen van bijzondere opnamen uit de jaren '50, '60 en '70, komt nu met een speciale 3-LP editie van het Olympia-concert van James Brown uit 1971. Grote man achter Sundazed Music is nog steeds oprichter Bob Irwin. Volgens Irwin is 'fun' het geheime wapen van Sundazed. "The music we deal with was made to be fun," aldus Irwin. "Its creators wanted their audience to laugh, dance, scream, jump around and blast it at ear-splitting volume for the general purpose of annoying adults. We try to capture and preserve as much of that joy as we possibly can, while maybe adding some extra fun of our own in the process."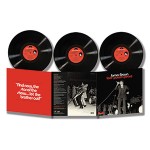 Nou dat schijnt Sundazed Music aardig te zijn gelukt met de bijzondere heruitgave van Love Power Peace op vinyl. De tracklist ziet er als volgt uit:
Side 1:
Introduction • Brother Rapp • Ain't It Funky • Georgia On My Mind – Part I

Side 2:
Georgia On My Mind – Part II • Sunny • Introduction: Bobby Bird • Signed, Sealed and Delivered • I Need Help – Part I

Side 3:
Introduction: Vicki Anderson • Don't Play It No More • Yesterday • Break and Introduction • Dance & It's A New Day • Bewildered – Part I

Side 4:
Bewildered – Part II • There Was A Time • Get Up (I Feel Like Being A) Sex Machine • Try Me – Part I

Side 5:
Try Me – Part II • Papa's Got A Brand New Bag / I Got You / I Got The Feelin' • Give it Up Or Turnit a Loose • It's A Man's Man's Man's World • Who Am I

Side 6:
Please, Please, Please • Get Up (I Feel Like Being A) Sex Machine • Super Bad • Get Up, Get Into It, Get Involved • Soul Power • Get Up, Get Into it, Get Involved • Audience Reaction
De 3-LP set Love Power Peace komt 5 augustus uit in Amerika en is te bestellen op de website van Sundazed Music. Prijs: $ 39,98, exclusief verzendkosten. Voor wie het geduld kan opbrengen om nog even te wachten met de aanschaf: in Nederland staat de release gepland op 22 augustus.