Funkgitarist Melvin Ragin (8 december 1950 – 24 oktober 2018), beter bekend onder zijn bijnaam "Wah Wah Watson" vanwege zijn unieke vaardigheden met het wah-pedaal, overleed op 24 oktober in St. John's Hospital in Santa Monica.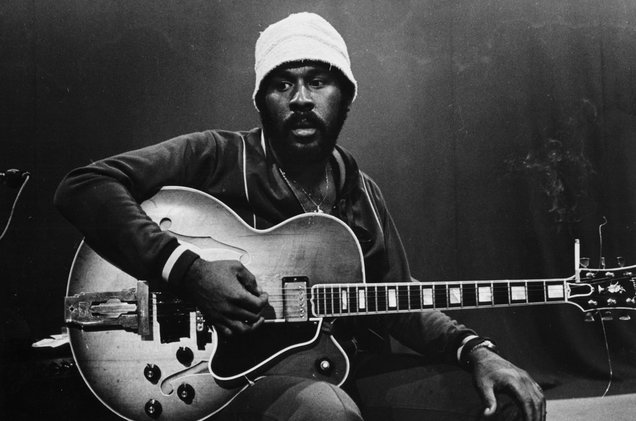 Ragin, geboren in Richmond, Virginia, verhuisde naar Detroit en werd in 1968 lid van The Funk Brothers, de studioband van Motown Records die alle Motown hits in zou spelen. Ragin nam platen op met artiesten als The Temptations. Zijn funky gitaarwerk in Papa Was A Rollin' Stone is wereldberoemd.
"When I first got to Motown, I didn't play the wah wah," vertelt Ragin in een van de weinige interviews die hij ooit gaf. "But there was a guy named Dennis Coffey that did 'Cloud Nine' and 'Ball of Confusion' (2 songs van The Temptations met wah-gitaar, FB), all that stuff. I'm saying, 'damn, where did you get that from?'  So I went and bought a wah wah pedal. I looked at it, and it had the directions, up and down, up and down — I said, but that's all it do? I took this damn thing home." In een van zijn eerstvolgende sessies toen hij zijn nieuwe wah-pedaal uitprobeerde, kreeg hij gelijk commentaar van de blazers. "The horn players were older guys, and they said, 'I wish he'd turn that chika-chika-wah-wah shit down!'" herinnert Ragin zich. "I just got the point I'm saying, I would like to make it sound like something else other than 'wah wah,' but have control over it, that if I wanted to say 'wah wah,' it would say 'wah wah.'"
Ragin deed in de jaren 1970 en 1980 tal van sessies met onder meer The Jackson 5, The Four Tops, Gladys Knight & The Pips en The Supremes. Hij speelde voor vele soul, funk en disco-artiesten. Ragin was betrokken bij 7 albums van Herbie Hancock. Ook nam hij nummers op en componeerde hij met de Pointer Sisters.
Ragin speelde gedurende zijn loopbaan mee op iconische albums als Let's Get It On (1973) en I Want You (1976) van Marvin Gaye, Body Heat (1974) van Quincy Jones, Car Wash (1976) van Rose Royce, Love Breeze (1978) van Smokey Robinson en Michael Jackson's Off the Wall (1979).
In 1977 bracht Ragin zijn enige solo-album Elementary uit op Columbia Records. Het album werd geproduceerd door David Rubinson en Ragin zelf.
In 1994 werkte Ragin mee aan de productie van het verzamelalbum Stolen Moments: Red Hot + Cool. De plaat, bedoeld om het bewustzijn rond aids binnen de Afro-Amerikaanse gemeenschap te vergroten, werd door Time Magazine uitgeroepen tot "Album van het Jaar".
In de jaren 2000 leverde Ragin bijdragen aan de albums Now (2001) van soulzanger Maxwell, Black Diamond (2000) van Angie Stone, de soundtrack van de film Shaft (2000), Damita Jo (2004) van Janet Jackson, Unplugged (2005) en The Element of Freedom (2009) van Alicia Keys.
Met dank aan Wikipedia, Billboard en Rolling Stone.
Hieronder het (onvolledige) overzicht op Wikipedia van platen waaraan Wah Wah Watson als 'sideman' heeft meegewerkt:
The Jackson 5, ABC (1970)
The Undisputed Truth, The Undisputed Truth (1971)
The Temptations, All Directions (1972)
Four Tops, Nature Planned It (1972)
The Temptations, Masterpiece (1973)
Love Unlimited, Under the Influence of… (1973)
Marvin Gaye, Let's Get It On (1973)
The Love Unlimited Orchestra, Rhapsody in White (1974)
Martha Reeves, Martha Reeves (1974)
Quincy Jones, Body Heat (1974)
Bobbi Humphrey, Satin Doll (1974)
Pointer Sisters, Steppin' (1975)
Herbie Hancock, Man-Child (1975)
Herbie Hancock, Secrets (1976)
Labelle, Chameleon (1976)
Rose Royce, Car Wash (1976)
Dizzy Gillespie, Free Ride (1977)
Herbie Hancock, VSOP (1977)
Gloria Gaynor, I Will Survive (1978)
Donald Byrd, Thank You…For F.U.M.L. (Funking Up My Life) (Elektra, 1978)
Cher, Take Me Home (1979)
The Beach Boys, L.A. (Light Album) (1979)
Michael Jackson, Off the Wall (1979)
Herbie Hancock, Feets, Don't Fail Me Now (1979)
Thelma Houston, Ride to the Rainbow (1979)
Herbie Hancock, Mr. Hands (1980)
Herbie Hancock, Monster (1980)
Blondie, Autoamerican (1980)
Vanessa L. Williams The Comfort Zone (1991)
Brian McKnight, Brian McKnight (1992)
George Benson, Love Remembers (1993)
Me'Shell NdegéOcello, Plantation Lullabies (1993)
Maxwell, Maxwell's Urban Hang Suite (1994)
Herbie Hancock, Dis Is Da Drum (1994)
Stevie Wonder, Conversation Peace (1995)
Brian McKnight, I Remember You (1995)
Quincy Jones, Q's Jook Joint (1995)
Meshell Ndegeocello, Peace Beyond Passion (1996)
Illya Kuryaki and the Valderramas, Versus (1997)
Maxwell, Now (2001)
Maysa, Out of the Blue (2002)
Janet Jackson, Damita Jo (2004)
Yung Berg, Look What You Made Me (2008)
George Benson, Songs and Stories (2009)
U-Nam, Weekend in L.A (A tribute to George Benson) (2012)
Tyrese, Black Rose (2015)