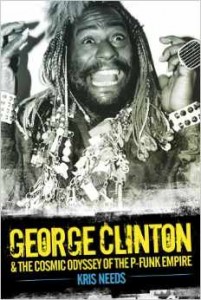 In juli 2014 verschijnt bij Omnibus Press een Engelstalige biografie van George Clinton, 'one of music's most fascinating, colourful and innovative characters', aldus de aankondiging op Amazon.com. In 'George Clinton: The Cosmic Odyssey of the P-Funk Empire' vertelt voormalig New Musical Express-journalist Kris Needs het verhaal van een van de meest invloedrijke zwarte artiesten aller tijden. Clinton bracht zwarte funk in de Amerikaanse hitlijsten. Zijn extravagante show halverwege de jaren zeventig zorgden voor uitverkochte stadions.
Het boek is gebaseerd op 'new first hand interviews' met Clinton zelf, maar ook op gesprekken met de P-Funk crew om Clinton heen, vrienden, bekenden en op interviews met de Red Hot Chili Peppers, Rick James, Prince, Zapp, Public Enemy, Living Colour en anderen over de zwarte cultuur waar Clinton een belangrijk onderdeel van is. Het fenomeen Clinton wordt geplaatst in een bredere historische context van een sociale beweging op zoek naar verandering in de maatschappij.
Kris Needs schreef eerder boeken over Blondie, The Clash, The New York Dolls, Keith Richard en The Scream.