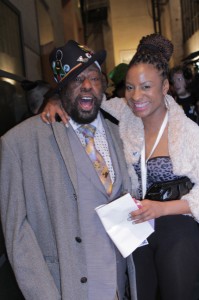 Funkateer Genius, onze correspondent in Duitsland, woonde begin deze maand het George Clinton-weekend bij in de Metropolis Studio's in Londen en beloofde Funkblog hiervan verslag te zullen doen als hij weer thuis was.
Genius excuseert zich voor het uitblijven van zijn verslag en schrijft over een Engelse zangeres genaamd Alex Watson die hij in Metropolis heeft ontmoet en die als 's0ngb1rd' op haar website al uitgebreid verslag heeft gedaan van het weekend, compleet met foto's en videobeelden.
Dat is zo goed, dat zelfs een Genius dat niet kan overtreffen, aldus Genius, die speciaal voor de lezers van Funkblog de link stuurt naar het prachtige verslag van s0ngb1rd met de toepasselijke titel: George Clinton and The Mother(ship) of all weekends!