Je moet zelfs als 72-jarige grondlegger van de P-funk in je ruimteschip met de tijd mee om in een steeds snellere mediawereld je One Nation Under A Groove boodschap te kunnen verkondigen. Dus maakt George Clinton sinds kort een realityshow over zijn leven: The Clintons.
Vandaag worden in The Moon, in Clinton's woonplaats Tallahassee, opnamen gemaakt voor 'The Clintons', met optredens van Trey-Lewd, Kandy Apple Red, Ebony Houston, Brandi, TRA'ZAE en andere talenten. Uiteraard in aanwezigheid van Clinton om wie de show uiteindelijk draait, en leden van P-Funk.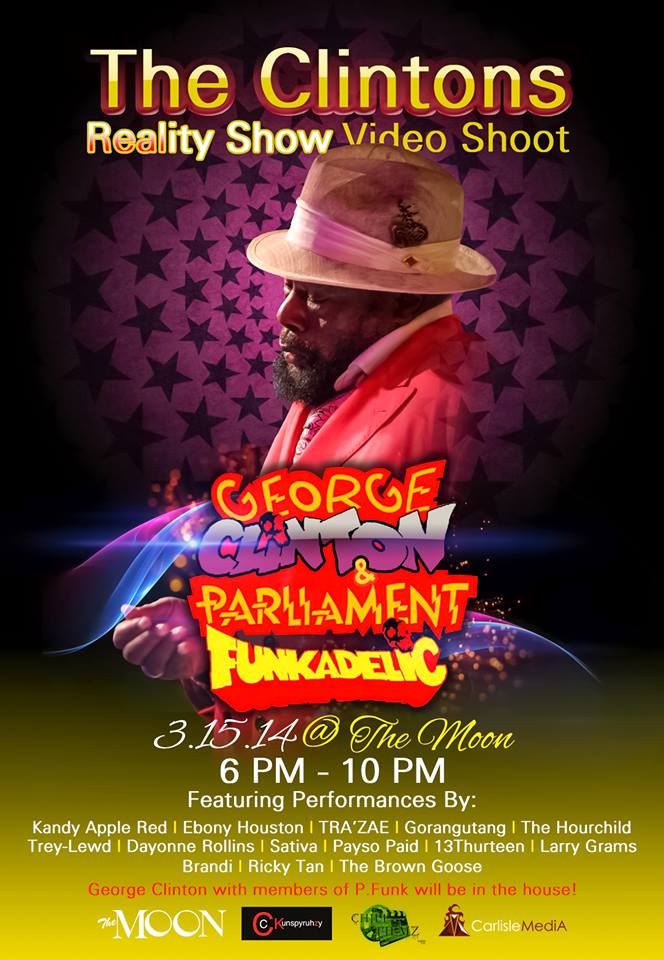 Begin vorig jaar had George zijn realityshow al aangekondigd in de media. 'The Clintons' moest zoiets worden als 'The Osbournes', maar dan met funk en rap.
"It's a big family thing," vertelde Clinton in 2013 aan UNCUT-magazine, "with my family, with my son Tracy, my six grandkids, Scott Thompson, Brandi."
Maar pas op! Het wordt niet allemaal entertainment, waarschuwde George, die beloofde dat hij in 'The Clintons' geen kans onbenut zal laten "to expose all the noses out there, stealing the copyrights and taking people's music and money".
Clinton's gevecht om de rechten van zijn albums terug te krijgen wordt dus een belangrijk onderdeel van zijn realityshow, waardoor de show ook een must is voor media-advocaten. Maak je borst maar nat Armen Boladian, waar Clinton al jaren mee in conflict is over zijn copyrights.