Zondagmiddag 8 februari om 13:30u presenteren de Amsterdam Saints in de North Sea Jazz Club hun album 'Moving On'. Dit coole funky gezelschap bestaat uit bandleider Rob Verbakel (gitaar), Born Sanders (toetsen), Maarten Bakker (bas) en Willem Smid (drums). Alle vier muzikanten hebben een conservatorium-achtergrond.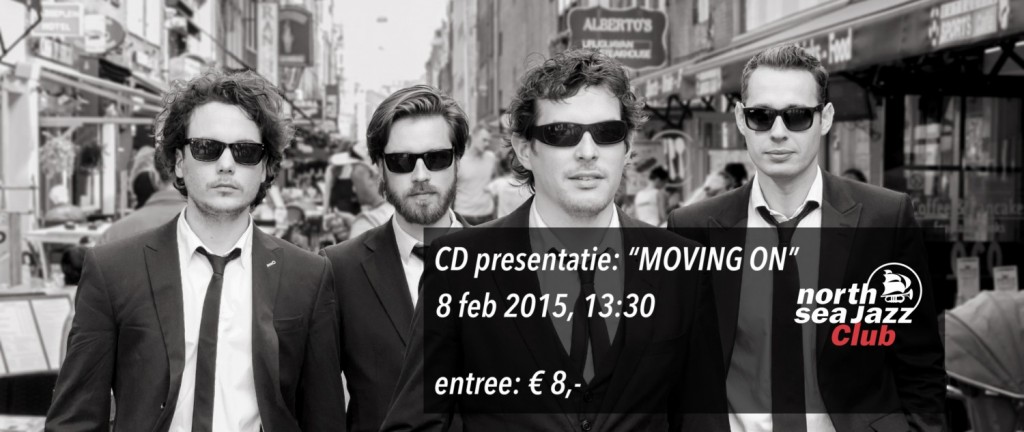 'Amsterdam Saints' is een groep met internationale aspiraties getuige hun louter Engelstalige website. Daar omschrijven ze hun muziek als volgt.
Explosive guitar solos. Swinging Hammond & Wurlitzer licks. Grooving basslines. And the Funkiest drums. The Amsterdam Saints are guaranteed to turn every gig into a party to remember. Blending original instrumental tunes with playful improvisation. A perfomance based on joy and enthusiasm. Fusing the most swinging styles of music into an unique cocktail of vintage grooves, bringing back memories of the sounds of The Meters, Herbie Hancock and the Headhunters, or John Scofield's funky explorations.
Een enthousiaste boodschap die in het Engels net wat beter klinkt zullen de muzikanten hebben gedacht. Veel optredens liggen nog niet in het verschiet maar dat gaat ongetwijfeld komen. Vooralsnog zijn de Amsterdam Saints op 21 mei te zien op het Meer Jazz Festival in Hoofddorp, en op 24 mei op Jazz In Duketown in Den Bosch.